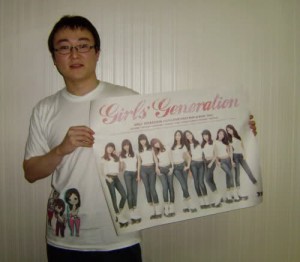 So Nyuh Shi Dae is garnering a lot of attention with the new 'Tell Me Your Wish (Genie)' after their 'Gee' Syndrome. A dedicated uncle fan and his unique fandom led to a beautiful donation.
On the past June 28th, the birthday of So Nyuh Shi Dae's maknae Seohyun, an uncle fan who introduced himself as Im Changrok (30) donated 7 million won (approx. $5,500 USD) to the International Charity Association, World Vision then presented the receipt to Seohyun as a birthday gift.
Im Changrok who is a member at the So Nyuh Shi Dae fancafe 'Hwa Soo Eun Hwa 2030' stated, "I was trying to think of a unique gift idea to congratulate So Nyuh Shi Dae's Seohyun's birthday and got the idea to make a special donation to World Vision in Seohyun's name."
The 7 million won that Mr. Im donated will be sent to the World Vision site in Bangladesh and used to make drinking water pumps. The caring heart of an uncle fan will supply clean water to the children in Bangladesh.
Mr. Im stated, "I hope that Seohyun will think of building wells in her name as a thoughtful gift" and "The thoughts of how happy Seohyun would be to receive a birthday gift as well as the happy children who will be able to access clean water brings smiles to my face".
The secretary of the special donations at World Vision, Im Yoonson, stated, "I think that such loving fan with his intense fandom leading to a beautiful deed such as this is so thoughtful" and "I hope that this event will lead to further spreading of the idea of 'special donations'".
—
Credits: Newsen.com
http://newsen.com/news_view.php?uid=200906…%E0%BD%C3%B4%EB
Translation: k_Taevid @ soshified.com