SNSD's Sooyoung – "I'm so into the campus life"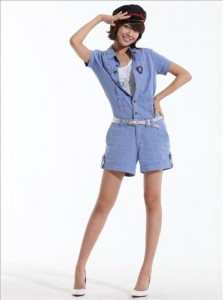 (Seoul=Yonhap News) Lee Eunjung reporter = "I feel as free as when I went to school. Being a celebrity while going to school on campus made me happy."
In March, Sooyoung was accepted to JoongAng University for Acting. She expressed how much fun she was having on campus while promoting "Tell Me Your Wish" with SNSD in this interview.
Sooyoung said, "Although it's fun studying your favourite drama, everytime I go to school, I feel free." She also said, "I ride the subway and buses and I also go eat in the student cafeteria. People never say 'Isn't that SNSD's Sooyoung' and it made me feel more comfortable to walk around."
Tiffany said, "Sooyoung attends school regularly" and revealed, "She doesn't even sleep, but she studies for her exams."
Thanks to attending school faithfully, Sooyoung was also able to make many new friends.
The members said, "Out of our members, nobody really meets and talks on the phone with their friends so we were jealous of Sooyoung" They laughed by saying, "There have been times when we were in the car, she talked for so long on the phone with her friends that out of jealousy, we yelled at her to 'be quiet'."
So Nyuh Shi Dae's Yoona, "I'm disappointed at my acting rather than the viewers' rating of 'Cinderella Man'"
Yoona who transformed into an actress through MBC drama 'Cinderella Man' expressed her disappointment of her acting rather than the viewers' rating.
Yoona who just recently finished working with 'Cinderella Man' revealed her thoughts of her period as an actress during the interview with MyDaily. Yoona had received much love from her role as Saebyuk in the KBS daily drama 'You are My Destiny' even before 'Cinderella Man'.
Yoona stated, "The filming for 'You are My Destiny' lasted a long time, but the filming for 'Cinderella Man' seemed like it ended too quickly. It doesn't feel like I filmed and it all flew by like a dream". Unlike the usual half year filming for typical daily dramas, the filming for 'Cinderella Man' was short experience with big impact.
To the question of, "Aren't you disappointed about the rating", Yoona replied, "The only disappointment that I have is about my acting". Yoona also stated, "It was really nice filming with such wonderful oppas and unni. It's still a surprise to me that I know such people" as she revealed the importance of meeting new people through this drama.
Yoona will be showing off her appeals once again not as an actress but as a singer with the release of So Nyuh Shi Dae's 2nd mini album on the coming 29th.
[Group So Nyuh Shi Dae Yoona. Photo Provider = SM Entertainment]
SNSD's Jessica – "The Park Myungsoo and MyungSica collaboration was fun"
[MyDaily = Lim Eerang reporter] Gag man Park Myungsoo had a duet collaboration with SNSD's Jessica. Jessica told us her feelings about singing with him.
Jessica did a collaboration with Park Myungsoo and MyungSica participated on MBC's 'Infinity Challenge – Olympic Duet Music Program'. MyungSica made an appearance through the song "Nengmyun (Cold Noodles)", a song by E-TRIBE that also made SNSD's 'Gee'. With their duet, they are competing with the best like Yoo Jaesuk and Yoon Mirae-TigerJK, Jung Joonha and After School, Jung Hyungdon and Epik High, Noh Hongchul and No Brain, Junjin and Lee Junghyun, Gil and Yoon Dohyun Band.
After already finishing recording, Jessica said in her MyDaily interview, "Through E-TRIBE, Park Myungsoo asked for me as a favour. It was fun." She started expressing her feelings about her experiences of doing a duet with Park Myungsoo. Because the song was not broadcasted, she couldn't say anything about the results of the music industry, but once the song was broadcasted, the sound would be resolved.
"When the 'Infinity Challenge' members did a parody of SNSD, Park Myungsoo wore my blue hat and pretended to be me", said Jessica, "I think that's the reason why he asked me to do a duet with him" she concluded.
"It was fun", she said, remembering that time of recording. "Because of me, Park Myungsoo's style of singing was very clean. Park Myungsoo went and matched with me", she said with a thankful heart. In closing, Jessica gave us more of an expectation and said, "Because of the fun lyrics and adlibs (you will like it very much)".
[So Nyuh Shi Dae Jessica. Photo Provider = SM Entertainment]
'Lonely DJ' So Nyuh Shi Dae Taeyeon, "It is a bit difficult after Kangin left but…"
So Nyuh Shi Dae's Taeyeon who has been left alone on her radio show that she has been working together with Super Junior's Kangin expressed her disappointment on his leave as well as her mind set on creating a radio show with her own distinct color.
Taeyeon has been protecting the radio booth alone for over a month since Kangin stepped down from the FM4U 'Kangin Taeyeon's Chinhan Chingoo'. Taeyeon stated during her interview with MyDaily, that she will probably DJ for the radio show by herself for a while and wants to steer to program to have her distinct color.
Taeyeon expressed her sadness as she stated, "It's really lonely after Kangin stepped down. There were lots of things to laugh about when I was working with Kangin". She also revealed her difficulties when she stated, "It's very physically tiring because I have to carry on two hours worth of radio by myself".
However Taeyeon also showed an optimistic side by saying, "It's nice to be able to make it into my own style". She also stated that the program changed, "As the DJ changed, the guest that appeared on the show and the atmosphere of the show also changed" and also "The basis of the program remained the same but the style of songs that play have changed".
[Group So Nyuh Shi Dae Taeyeon. Photo Provider = SM Entertainment]
Credits: Sosiz, MyDaily
http://www.sosiz.net/4290454#0
Translations by kkbluvv and k_Taevid @ soshified.com/forums