SNSD Maknae, Seohyun "I dyed my hair for the first time after debut!"
As SNSD began to conquer the online music charts after comeback, they have been showing the true power of a 'girl groupâ??.
SNSD who showed a transformation in their image through the 2nd mini album 'Tell Me Your Wish' promotion has been receiving great attention. Instead of the 'Soshi Gee Look' that SNSD has shown through 'Gee' promotion, the new basis of the military look of their 'marine girl' concept is now getting everyone's attention.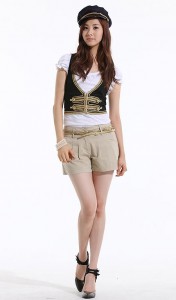 SNSD's maknae, Seohyun on 22nd with the interview with Newsen said, "This is my first time dying my hair after debut" and smiled. SNSD commented about their new concept saying "Marine girl got everyone's attention, but we are thinking of showing army, navy, and air force look as well" and added "You are going to be able to see a brighter look of SNSD this time than before. All of the members except for Yuri decided to dye their hair brown."
They also went on talking about their song and the new promotion concept saying "It's more mature and refined". They said, "We became more mature. You will be able to see a different side of SNSD from 'Gee'.
On the other hand, 'Tell Me Your Wish' is a trendy song with a fantastic intro that plays smoothly into the bright and refreshing chorus. This song is about how So Nyuh Shi Dae will become the 'Goddess of Luck' to give energy to encourage those who are exhausted from a busy schedule or depressed after losing self-confidence.
SNSD will show their first performance of their title song 'Tell Me Your Wish' on the upcoming 26th at KBS 2TV 'Music Bank' and on MBC 'Show! Music Core' on the 27th, as well as 'Inkigayo' on the 28th and start their regular activities.
—
Source: Sosiz.net
Translated by: blingbling9@soshified.com