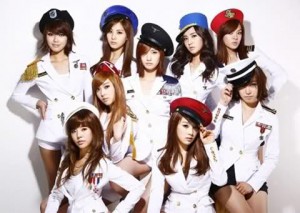 The hit song, Gee, dominated the first half of 2009 and there is a lot of interest about SNSD's new song.
The past 1st mini-album's title song was Gee, and won 1st place for 9 consecutive weeks in KBS 2TV's Music Bank, a shocking record. And of course, as much as the dance and fashion received love from the nation, the interest in SNSD's new song is amplified.
The much talked about, SNSD's 2nd mini-album's title song "Tell Me Your Wish (Genie)", is produced by hit songwriter, Yoo Youngjin, Yoo Hanjin and an active songwriting team in America and Europe but originating from Europe, Dsign Music. The best musicians will come together to create a trendy dance song. With a dreamlike introduction and a bright and upbeat chorus, the song's harmony is very impressive.
When you get tired, lose confidence, or other depressing things happen in your busy lifestyle, SNSD will transform into "goddesses of luck" and give energy and vitality. They'll help you find your lost courage and passion, giving you strength, in the lyrics.
The title song, Tell Me Your Wish (Genie), is planned to be revealed on the 22nd, on Melon, Doshirak, Cyworld, and various other online music sites.
Also, SNSD's 2nd mini-album will be released on June 25th.
Credits to : Sosiz
Translated by: Hyunjin808@soshified.com