All SNSD did was Release a "Marine Girl" Photo… and the Response is Explosive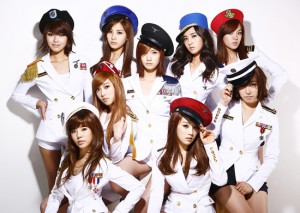 The idol group SNSD has transformed into "Marine Girls" this time.
SNSD has announced that on this coming June 25th, they will have a comeback with their second mini-album. On the 15th, SNSD released a photo showing their concept for the second mini-album, and the responses are explosive. In the photo, SNSD is wearing navy uniforms made specially for females, while exuding strong charisma. SNSD, who once represented cuteness and liveliness, is planning to introduce a new image with their charisma.
It is very much expected that with SNSD's transformation into the "marine girl" uniform fashion concept, will set a new trend for Korea once again, not only with their songs, but with their fashion.
SNSD set a "Soshi Gee look" trend in the beginning half of 2009, which spread the 'Gee' syndrome even into the fashion world. An associated party of SNSD hinted that the songs, clothing, concept, and etc, will be very different from their 'Gee' days.
SNSD has raised the bar by making a big hit with their colorful skinny jeans, starting the "Soshi Gee look" during their days of promoting 'Gee'.
On another note, the new upcoming second mini-album feautres charms that only SNSD can show, and contains music that is polished and very finely perfected. SNSD is expected to show the same enormous power that they have showed from their debut "Into the New World", and their other hit songs, "SNSD", "Kissing You", "Baby Baby", and most recently, "Gee".
SNSD shared their thoughts by saying, "We're very happy to come back with new music and performances. We are working very hard to prepare a new look to show everybody, so please be expectant and support SNSD a lot."
[Newsen Entertainment]
****************************
Source: Jo!ns and Newsen
Translation: mishybear@soshified.com