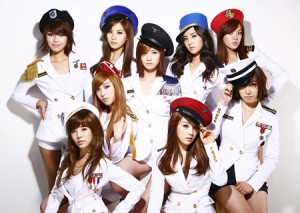 The group that swept the Korean music industry in early 2009 with the "Gee syndrome", SNSD, is aiming to do so again.
SNSD's company SM Entertainment said that SNSD will comeback on the 25th with their second mini album. They are receiving a lot of attention because of their record numbers in album sales, mobile downloads, online charts, and all music charts, as well as creating the record of being number 1 for 9 weeks on KBS Mubank.
SNSD is looking to change once again for this mini album and is also aiming to create another SNSD craze. The company said that the second mini album contains all of SNSD's charms as well as great music that will show the public the power of SNSD.
"We are happy to come back with a new song and a new performance." SNSD said, "We are all working hard so anticipate our transformation and support us."
credit: Dongie @ soshified.com/forums