Super Junior – SNSD, Kings of Album Sales for First Half of 2009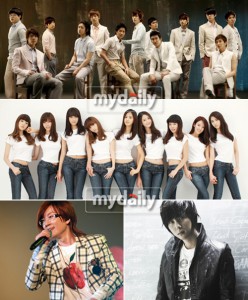 [MyDaily = Reporter Lim Leerang] Recently, album sales profits have been way lower than profits from singles. However, album sales still important value to an artist as it represents the musicianship and pride of an artist.
Then who is recorded to have the most album sales for the first half of this year? According to the online album site Hanteo, the artist with the most album sales this year as of May 30th has been decided.
The Kings of album sales this first half of the year has been Super Junior. Super Junior sold 100 000 copies of their third album, Sorry Sorry, setting the record for highest album sales. After selling the C version of Sorry Sorry, they broke through by selling 200 000 albums.
SNSD lead the wave in the pop world in the beginning of this year, and are named the Queens of album sales, just after Super Junior. SNSD has sold around 70 000 copies of their mini-album Gee since January, putting them on the 2nd spot. In 3rd place is Seotaiji's second single from their 8th album, Seotaiji Atomos Part Secret. This album sold 59 000 albums.
[…]
[Super Junior, SNSD, Seotaiji, Shin Hyesung (from the top). Picture credits = SM Entertainment, Seotaiji Company, Good Entertainment]
**************************
Source: My Daily and Sosiz
Translations: mishybear@soshified.com