Lee Seungchul, "I'm grateful to My Juniors SNSD for Singing My Songs"
2009-05-31 AM 9:47:46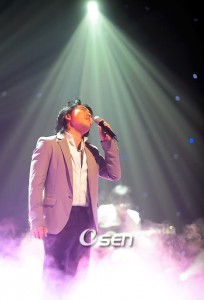 [OSEN Reporter Kim Minjung]
Lee Seungchul, who recently released his latest album â??Mutopiaâ??, appeared in a radio program where he said, â??Iâ??m grateful to my juniors SNSD for singing my songsâ?, drawing the listeners attention.
Lee Seungchul was a guest in Gyeongin province program iTVFM 90.7 HMz â??Park Hyunjoonâ??s Radio Gagaâ?? on the 31th of this month, and on its corner â??Unplugged Liveâ??, after his prerecorded song was played, he said that he felt really grateful towards his juniors.
The DJ, Park huynjoon, asked him, â??As a senior to all the new singers you have been receiving a lot of respect from them, but how do you feel when your juniors make remakes of your songs?â? Lee Seungchul answered, â??I feel gratefulâ?.
He continued, â??For example, I am really thankful to SNSD. Something that was already forgotten was heard again, and even got first place on online charts. Because they sang my song again I got recognized once more by many peopleâ?.
The DJ asked him, â??Have you ever bought them dinner to thanks them?â? â??Even though I havenâ??t, I am close with SNSD. They have performed in my concerts as guests and even appeared in my music videos,â? he answered.
[…]
Source: OSEN
Translation:Cph@Soshified.com
Editor: Soy@Soshified.com