Taeyeon Close to Tears, Mourns Ex-President Roh on Radio
2009-05-30 PM 11:33:56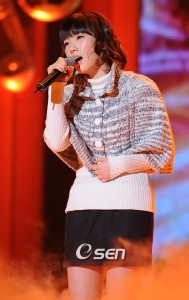 [OSEN Reporter Lee Junga]
SNSD's member Taeyeon mourned deeply the passing of Ex-President Roh Moohyun.
She started her program, MBC FM4U 'Taeyeon's Close Friends', on the 29th saying, "When there is a road that nobody goes through, everybody avoids it. Most people choose the safer way, but sometimes there are people who choose to do the opposite."
"Today, in your lead, many people are following you close behind, and already made a new road. Today was the funeral ceremony of Ex-President Roh Moohyun. The pall bearing car slowly made it's way through the crowd with many people following it close behind, and in no time it become a new road. In his life and in his death, he was a person who always walked a different road," Taeyeon said, honoring his memory.
On that day's broadcast, the music played were mainly calm songs to mourn the passing of ex-president Roh, and letters from the radio listeners were read on air, making Taeyeon unable to hide her tears in between each one. Near the end of the program Taeyeon said, "Today I want to sing," and she performed live Kim Yeonwoo's 'The Common Words of I Love You'.
Source: OSEN
Translations: Cph@Soshified.com
Editor: Soy@Soshified.com