[05.26.09] SNSD-Wondergirls-2NE1, There is No Resting from the Girl Groups' Activities
[OSEN=Reporter Lee Jungah] The activity of girl groups will continue without stopping this year.
Last year, the the girl group activity was busier than ever. Wondergirls was in the center of it all, and the representative girl group SNSD led the fever this year.
Last year, Wondergirls showed to be most active, creating a girl-group wave with their song "Nobody." Wondergirls made everybody point their fingers and do the gun dance to the song, and gathered a lot of momentum to hold their first concert. On Mnet chart, the album reached the top just two days after it went on sale, and it also placed first for 5 weeks.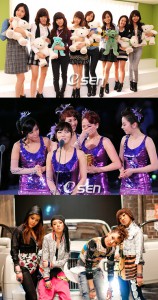 Likewise, SNSD continued on this fever for girl groups this year. SNSD was noticeably popular not only in the music world, but they also appeared on shows and CF's very frequently because of their song, "Gee". It deserved to be called the "Gee" wave. SNSD placed 1st for 7 weeks on the same chart that Wondergirls placed 1st for 5 weeks. They had the honor of having first place for the longest amount of time.
If Wondergirls and SNSD captured music fans by showing their youthfulness, liveliness, and cuteness, then this summer, the girl group different than all the others will come out to continue with the wave.
These girls, 2NE1, were called "the Girl Big Bang" and became popular even before they debuted. 2NE1 sang the song "Lollipop" with the Big Bang members before they formally debuted, creating publicity, and are currently active promoting their debut song, "Fire." Unlike previous girl groups, they have hip hop roots with their powerful performances on stage are their strong points.
SNSD, Wondergirls, and 2NE1 who is continuing with the girl group streak, are not only going to energize the pop world, but they are making us expectant for more diverse girl groups.
**************
Source: Daum Media and Osen
Translation: mishybear@soshified.com
Note: This article is to say positive things about all the girl groups, not to compare any of the girl groups with each other. Please, no negative comments.