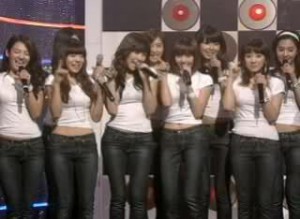 The group, SNSD, released their mini-album on January 5th.
Along with the release, they experienced an explosive popularity, charting 1st on non-cable music programs and other charts for 5 consecutive weeks.
The five weeks after the release of the album brought in a profit of at least 3.5 billion won.
80,000 albums were sold with a profit of 900,006,000 won. And on various music websites, the profit of online music downloads were 600,000,000 won.
The total music profits from caller rings and additional services add up to a whopping 1,000,000,000 won.
They are being welcomed by the CF industry as their popularity skyrockets.
Even the cost of their appearance has doubled, acquiring a profit of 1,500,000,000 from CFs alone.
The fact that SNSD's popularity brings every generation together, is receiving a lot of attention.
[Lim Jinmo/popular culture critic: (Q. What is the reason why SNSD's 'Gee' is receiving love from different age groups?)
Just the song name 'Gee' itself has a high chance of being a commercially successful song. The song, visual, dance, and fashion are all things that not only would interest and catch the eyes of teenagers, but all age groups.]
Credits to: Sosiz
Translated by: Hyunjin808@soshified.com
Edit 5/29: Fixed with correct won conversions. My apologies to any inconveniences this has caused.