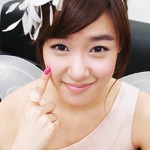 Singer Jiyoung (Baek) and Tiffany take a challenge on acting.
They are about to make cameo appearance in SBS drama . Their voices are already well known to the viewers through the drama's O.S.T, and now they are about to make their faces known. One of the staff said, "We are examining the possibility of Jiyoung and Tiffany's special appearance. We are not going to create new characters specially designed for them, but are going to pick characters that fit them best from the original script".
is doing poorly in terms of TV ratings despite of the great cast including Jung Ryeowon, Jung Kyungho, Moon Sungguen, Lee Misook, and etc, because MBC's dominated Mon-Tue drama time slot.
selected Jiyoung and Tiffany as helpers to keep their viewers away from that newly started on the 25th of May. The official said, "We are discussing characters and schedules in more detail. They are going to play roles that extend from singers' charisma"
O: 이현아 기자 lalala@sportshankook.co.kr
T: bug@soshified.com
===
I dunno what it means by singers' charisma but I think they are playing roles that involves singing.
Jamyoungo = Jamyoung Go
Baek Jiyoung sang the theme song of Jamyoung
Tiffany sang the theme song of Nakrang