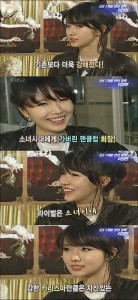 The singer Lee Junghyun who has made a flashy comeback with a new album after 2 years and 7 months picked SNSD as her top rival.
Lee Junghyun appeared on KBS 'Celebrity News' on the 23rd and expressed her overwhelming thoughts on making a comeback in the national music industry. When the reporter asked how she was during the break, she replied, "I worked as a patriot of Korea in China. I earned lots of foreign currency also" and "I've gotten lots of fans due to lots of activity in China."
Lee Junghyun who is facing her 14th year since her debut stated, "My rival is SNSD. But I think I have a stronger charisma" and "When I was that age, I was scary and interesting instead of fresh" as she reminisced about her debut period.
Lee Junghyun is making a comeback to the Korean industry with her newly released album.
The title song 'Crazy' was written by the hit song writer who wrote SNSD's 'Gee'. The writer, E-Tribe, was in charge of writing and producing the song and when the audition for the making of the music video was held, over 400 dancers signed up for the audition after just listening to the chorus part of the song. The song presents a strong and trendy sound. Also the song is a unique mix of R&B with hip-hop which was hard to come across in Korea and is something to be anticipating about.
—
Credits: newsen.com
http://newsen.com/news_view.php?uid=200905…%E0%BD%C3%B4%EB
Translation: k_Taevid @ soshified.com