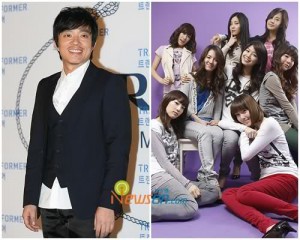 SNSD met with Lee Bumsoo as their first acting teacher.
SNSD met with with the actor Lee Bumsoo in order to receive extensive training on the ways of traditional acting during the show which will air on the 24th, on MBC 'Horror Film Factory'. This training will help them in their progress towards becoming a horror queen.
MC Yoo Saeyoon conducted 'Scoring of Lee Bumsoo' and casually carried out a conversation by asking the girls what they normally thought of Lee Bumsoo. However, Lee Bumsoo was hidden on the bus and was able to hear what each of the girls had said about him.
On this day Tiffany fully expressed her acting skills that she had been practicing, and Seohyun surprised everyone with her superb acting when she screamed at Lee Bumsoo then started crying.
Also each of the girls prepared a gift for Lee Bumsoo with the 20,000 won (approx. $20) each had been given. Tiffany purchased a swimming trunk for the upcoming summer, Sooyoung purchased a fake wife pillow to prevent him from becoming lonely, and Hyoyeon purchased ramen noodles and a tin pot which brought laughter to Lee Bumsoo.
The one girl that Lee Bumsoo chooses as the best student will be given the chance to film a test film along with Sooyoung who was chosen in the previous haunted school episode.
The show will air at 6:20 pm on the 24th.
—
Credits: newsen.com
http://newsen.com/news_view.php?uid=200905…%E0%BD%C3%B4%EB
Translation: k_Taevid @ soshified.com