SNSD's "Gee" is "Overall Number 1 Download" from January-April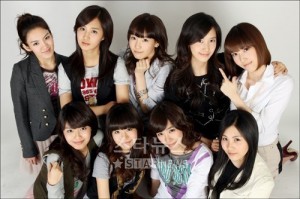 It has been revealed that the 9-member girl group SNSD have been a huge hit on online music stores this first few months of the year.
According to documents that the music portal site KTF Doshirak revealed to MoneyToday StarNews on the 19th, SNSD's Gee has placed first in the total number of overall pop song downloads between January and April.
SNSD's Gee, which has been presented online beginning of January, was the number 1 download in January and February. In March, the song was third, and between January and April, it was placed number 1 overall. SNSD's minialbum with Gee has sold over 100 000 copies (their company's standard total) and it has reeled in a fairly large sum offline, as well.
On the other hand, according to KTF Doshirak, the female duo Davichi's "8282" was in first place in March and BigBang&2NE1's "Lollipop" was first place in April.
Also, for the total download listings following SNSD from January to February, Super Junior's "Sorry Sorry" was 2nd, Davichi's "8282" was 3rd, Afterschool's "Ah" was 4th, SS501's "Because I'm Stupid" was 5th, Hwayobi's "Half" was 6th, BigBang&2NE1's "Lollipop" was 7th, Wax's "Can't Call Even Once" was 8th, Gavy NJ's "Love Story" was 9th, and Big Bang Seungri's solo song "Strong Baby" was in 10th place.
——————-
Source: Reporter Gil Hyesung from StarNews
Translation: mishybear@soshified.com