SNSD Selected 1st for 'The Celebrity you would want to Immigrate together with'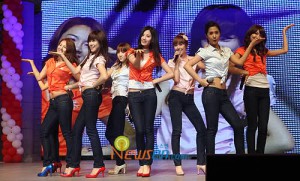 In a recently conducted survey relating to immigration, SNSD was selected 1st place for 'The celebrity you would want to immigrate with'
A firm specializing in overseas settlement and investment, MCC, held a immigration settlement seminar at the Hana Bank World Center in Gangnam, and conducted the 'The celebrity you would want to immigrate with' survey to 450 participants.  Here you will get the best option for the abogados de inmigracion en las vegas nevada.
While SNSD who swept the music industry the first half of the year placed 1st for ' The celebrity you would want to immigrate with' with 52%(234 people), Yoo Jaesuk was selected 2nd with 17% (78 people). Behind them were Wonder Girls with 9% (42 people), Park Myungsoo with 7% (30 people), Lee Hyori with 5% (21 people) Kang Hodong with 3% (15 people), No Hongchul 2%(9 people), Shin Bongsun 1% (6 people), Etc 3% (15 people) was the order.
SNSD who blasted away the music industry with Gee, for the 1st half year, with their cute appearance and being well rounded in the entertainment industry, are bringing in their popularity with the public. All 9 members who are bright and with their cute image and individual charms, and continues to gather a lot of interest, was chosen 1st because which ever member they would go with they would have a fun and enjoyable immigrant life.
The nation's MC Yoo Jaesuk who was selected for 2nd place, with his witty sense of humor would seem like he would still make people laugh during their immigration life and with his sincere witty image, immigrants would be able to adapt quickly to their immigration life, were some of the reasons why people chose him.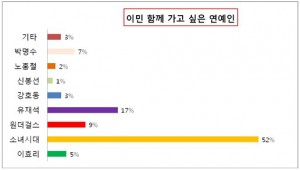 —-
Source: http://news.cyworld…./20090520n05868
Translation: kimjihyee @soshified.com