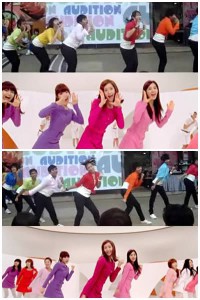 A parody of SNSD's 'HaHaHa' in Thailand has garnered much attention.
The 'HaHaHa Campaign 2009' from Samsung has reached over to Thailand and has been receiving lots of support. A recently uploaded UCC displays a group of young men from Thailand dancing to SNSD's 'HaHaHa' and has attracted the attention of many internet users.
The video was created in Thailand; 8 young men wearing skinny jeans and colorful T-shirts perfectly imitated SNSD's 'HaHaHa' dance. The surprising thing is that the group was partly made up of young guys who are still in school. The netizens (citizens of internet aka. internet users) have given them the name 'Boys Generation' of Thailand and expressed their delight.
A representative of 'HaHaHa Campaign 2009' stated, 'From seeing that they are perfectly imitating the dance, they must have studied from the dance tutorials provided on the 'HaHaHa' web page" and "We are very happy to see that we are able to provide the comforting message of the 'HaHaHa Campaign" to Thailand.
One netizen with the ID of 'Soshifan' stated after seeing the video, "I'm surprised that the 'HaHaHa' dance is popular even in Thailand" then added "It's true that music and dance is an international language."
—
Credits: Newsen.com
http://newsen.com/news_view.php?uid=200905…%E0%BD%C3%B4%EB
Translation: k_Taevid @ soshified.com