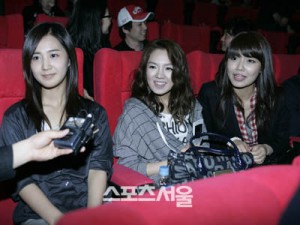 SNSD is now becoming the number 1 guest to invite to a VIP movie premiere.
SNSD is using their break from the music industry to go to premieres and enjoy movies that are opening recently. The members Yuri and Sooyoung are called the most. They went to the VIP premiere of the new movie "Shadow's Murder" with Sunny on the 23rd of March. They also watched the movie "Scandal in Insadong" with Hyoyeon at its premiere. It is said that other movies that will come out soon are competing to have SNSD come to their VIP premiere.
One top male actor said that "I went to the VIP premiere of 'Scandal in Insadong' and was really happy when I saw SNSD there" and "I want SNSD to come to my movie's premiere even if I have to ask their entertainment's company staff myself" and showed his affection for SNSD.
Their company SM Entertainment doesn't seem to dislike the invites as well. It may be because members other than Yoona, who acted in 'You Are My Destiny' and currently acting in 'Cinderella Man', get to know the directors of movies and are able to become acquainted with many actors.
One SM staff said "There are instances where other entertainment companies called us to invite SNSD. But many members are just close to the actors and go the premieres for that." and "I think the members are being invited because of their bright and outgoing image."
Original: Sportsseoul.com
Translated by: dongie@soshified.com/forums