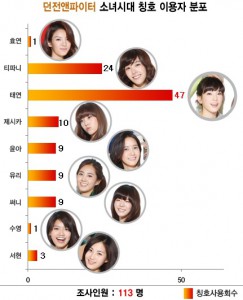 'Dungeon and Fighter's gamers prefer Girl's Generation member Taeyeon's appellation (identifying name or title)* according to a survey.
Neohpeul's action game 'dungeon and fighter's' Girl's Generation appellation event has received explosive popularity. Tae Yeon's voice inserted appellation was the most popular out of all the members.
According to the survey by the Daily Game on the April 20th from 2:00 PM to 8:00PM in 'Dungeon and Fighter' casillas server major town, gamers used Taeyeon's appellation the most then followed by that of Tiffany's, and Jessica's.
This research was conducted by checking the Girl's Generation appellation symbol lollipop character data on top of the 'Dungeon and Fighter's' gamer's characters.
With this method, they narrowed down to total number of 113 people who found all the Girls Generation appellation. And among these specifics, 47 gamers used Tae Yeon's voice appellation as their main.
Taeyeon, also known as Taengoo as a term of endearment among her fans, has cute appearance and outstanding singing skills that contributed to her popularity. Another reason behind her rising popularity in and outside the game seems to be from feeling of familiarity due to her appearance in presently airing MBC variety show 'We Got Married' .
And next, Tiffany and Jessica's appellation was most popular, followed by Yoona, Yuri, and Sunny's. Twenty-four 'Dungeon and Fighter' users used Tiffany's appellation resulting her to be 2nd place after Tae Yeon.
Tiffany obtained many male based fans from her popping optimistic personality with her aegyo filled eye smile. And Jessica was 3rd place with her charm with 10 users using her appellation.
Yoona and Yuri, and Sunny all had 9 users using their appellation, in the 4th place. Girl's Generation member Seohyun had 3 users, and Sooyoung and Hyoyeon each had 1 user.
Neohpeul since the 9th of April, began the appellation event in the game. If the gamer collects 357 of 'Girl's Generation's heart filled box' and have passed the quests requested through the designated NPC- they receive 'Girl's Generation' appellation item.
This special Girs Generation appellation not only has ability to increase strength, intelligence, and power of the game characters but also each appellation comes with all the Girl's Generation member's actual recorded voices. Because of this reason, many 'Dungeon and Fighter' gamers collect these valuables.
From the request of the Girl's Generation agent (SM entertainment), Neohpeul refused to show the appellation usage percentages of each specific members out of all the gamers in 'Dungeon's and Fighters'.
translated by: june0916@soshified.com/forums
original: digitaltimes/ dt.co.kr