Tiffany's First Solo Performance – "By Myself" Debut on Inkigayo
SNSD member Tiffany sang her first solo performance.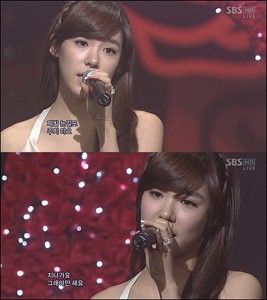 On the 19th on SBS Inkigayo, Tiffany sang "By Myself", an OST from SBS's most recent drama Jamyunggo.
Up till now, Tiffany melted the hearts of many male fans with her laughing eyes and her liveliness, but that day, she showed a more matured and serious side of her, giving it her best for the performance.
During the whole song, she sang all her pitches perfectly and her gaze looked very lonely [and fitting to the song], receiving a huge applaud from the audience and viewers.
After Taeyeon and Sunny, Tiffany is the third member of SNSD to present a solo song.
Tiffany's solo song "By Myself" captures the sad fate of the princess character in the drama with her powerful vocals and graceful piano and stings arrangement.
"By Myself" was already released on a music website last month on the 26th, and is being received well by the netizens.
*******
Source: Dailyan – Reporter Kim Sangyoung
Translation: mbear@soshified.com
————————————————————————————————————————–
Tiffany Shows Off Her Bright Voice and Emotional Melody with "By Myself"
Tiffany sang "By Myself" on Inkigayo.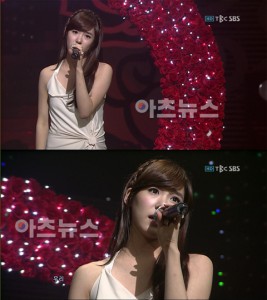 On the 19th on SBS Inkigayo, SNSD's member Tiffany created a lot of interest with her solo performance.
That day, SNSD's Tiffany showed off her bright voice and emotional melody by singing the lyrical ballad "By Myself," an OST from the SBS drama "Jamyunggo."
Tiffany also wore an outfit that especially showed off her shoulder line on Inkigayo, singing with a sweet and touching voice, receiving a huge applaud.
[…]
********
Source: Artsnews – Paran
Translation: mbear@soshified.com