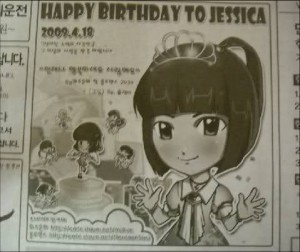 The special 'newspaper advertisement' birthday present that SNSD Jessica's fans made is becoming a topic of discussion.
On the 18th, Jessica's fans, to congratulate her 20th birthday, put up a happy birthday advertisement in a newspaper.
In the advertisement, there's an image of a cute Jessica caricature character and 'Happy Birthday To Jessica' written in.
The fans also wrote, "For 7 years, you've worked hard and we hope you'll get the love you deserve for all your hard work. Be happy. We love you~"
In February, SNSD's fans also made a newspaper advertisement for Sooyoung.
Meanwhile, SNSD stopped group activities in March. Yoona's doing MBC's Cinderella Man with Kwon Sangwoo and Tiffany and Yuri are Show! Music Core's MCs.
Credits to: Maxmovie
Translated by: Hyunjin808@soshified.com