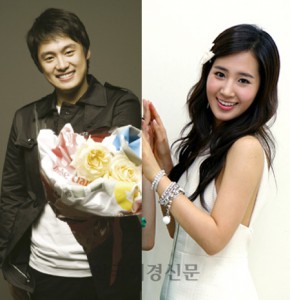 On MBC's Sunday Night "We Got Married" progam, announcer Oh Sangjin appeared and fell for SNSD's Yuri at first sight.
The episode was aired April 12th. Jung Hyungdon and Taeyeon had invited the sisters (SNSD members) for a housewarming party and they had a nice time. In the middle, the sisters of Taeyeon asked Jung Hyungdon to invite Jo Insung to their housewarming party, but instead, he invited the announcer, Oh Sangjin.
The thoughtful Oh Sangjin, who briefly knew Taeyeon through radio shows, gave her jelly snacks as a present, which increased Jung Hyungdon's jealousy. Especially Yuri, who asked for Jo Insung to be invited, took off the poster of Jo Insung that was on the wall when Oh Sangjin appeared. She smiled at him, and it made everyone else in the vicinity burst into laughter.
On this same day, in Jung Hyungdon and Taeyeon's new house, the six people (Jung Hyungdon, Taeyeon, Oh Sangjin, Yuri, Jessica, Sunny) started a game of "007 Bang!". While playing in the peaceful atmosphere, the other people gave their undivided attention to Oh Sangjin and left Jung Hyungdon out. Jung Hyungdon confessed his feelings saying, "Seeing my sister-in-laws being so nice to another guy made me feel alienated".
However, Oh Sangjin asked Taeyeon to sing "Can You Hear Me", while Jung Hyungdon asked for her to sing "If". In the end, Taeyeon sang "If" and her husband Jung Hyungdon was very touched.
On the other hand, during the filming of the show, the Shin Sungrok and Kim Shinyoung couple came to visit Jung Hyungdon and Taeyeon's new house. They had an interesting card game battle, which gave viewers much laughter.
Translations: kkbluvv@soshified.com/forums
Editor: Tsuna@soshified.com/forums
source: http://kr.news.yahoo.com/service/news/shel…;newssetid=1352