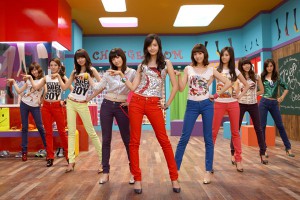 Samsung will raise people's energy by using SNSD.
Samsung will feature SNSD in their "Hahaha Campaign", which started last year, will spread energy and messages of hope to many people.
Samsung staff said, "We decided to have SNSD as the model because they have fans of every age and have a bright image" and "the second campaign serves the same purpose as the first campaign."
The second "Hahaha Campaign" with SNSD will officially start on the 14th at 3PM. Samsung already posted "another haha will begin soon" on their official "Hahaha Campaign" website, www.hahaha4u.co.kr, as well as a teaser to get netizens' interests.
One netizen said "The Hahaha Campaign with Samsung must be starting again" and "it was a big hit when the hahaha song, DBSK and Kim Yuna video came out but now I'm interested to see how the new campaign will look."
The "Hahaha Campaign" which started in December of last year is an online campaign to help people get through the hard times. Samsung allowed netizens to download cellphone ringtones, and caller ring versions of the Hahaha song. Samsung will pay for all the fees to receive and send the ringtones.
The campaign has featured figure skater Kim Yuna, writer Lee Wuisoo, and idol group DBSK.
VISIT http://www.hahaha4u.co.kr the video is released and the campaign is under way!
Original: Asiatoday.co.kr
Translated by: dongie@soshified.com/forums