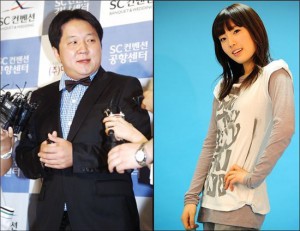 It's now confirmed that Jung Hyungdon is dating a writer, who works at a broadcasting company.
This means that he's going to break up with SNSD's Taeyeon.
After Jung Hyungdon disclosed that he's dating a writer, he's now planning to drop out from 'We Got Married', which is part of MBC 'Sunday Sunday Night' program.
The producers of 'Sunday Sunday Night' said, "We were planning to make adjustments with our current couples in early May and we decided to exclude Jung Hyungdon from the couples".
The producer added, "The Jung Hyungdon-Taeyeon couple will drop out not because Jung Hyungdon is in a relationship. We decided to have them dropped before Jung Hyungdon's relationship was confirmed. Moreover, along with the Jung Hyungdon-Taeyeon couple, we plan to have a few other couples drop out as well".
Since February, Jung Hyungdon and SNSD's Taeyon have been a couple in 'We Got Married'.
Despite the big age gap, Jung Hyungdon is 11 years older than Taeyeon, this couple garnered much popularity by their adorable, pseudo married life.
Their last episode will air the first week of May.
Credits:
Written by Ha Jihye news@tvdaily.co.kr
Translated by cathode@soshified.com/forums