A-Solution Model, SNSD's Taeyeon Joining Tiffany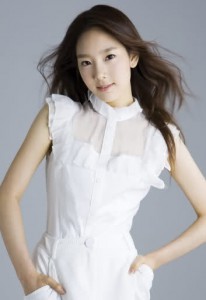 The idol group 'Soshi' (short for So Nyeo Shi Dae)'s leader, Taeyeon, has become a cosmetics model. It has been revealed that Taeyeon has been chosen as Aekyung's A-Solution new model on the 6th. The current model is also in SNSD, Tiffany. Through Taeyeon's model contract, both her and Tiffany will become two-top models and there are promotion activities planned.
Taeyeon is currently a radio DJ and in MBC's 'We Got Married' program, she's partnered with gagman, Jung Hyungdon, living a fake marriage life and is experiencing a lot of popularity. The particular fact that Taeyeon's leaving good impressions on females was a huge factor for selection (as the model).
Cheon Youngsuk, Aekyung marketing team's executive officer, revealed, "A-Solution is a brand targeting adolescents and since kids ages 13-18 they like SNSD, we chose Tiffany and Taeyeon." and "We're planning on organizing two-top models for marketing and promotion activities." A-solution is planning on catering to the 13-18 age group by launching a new product with the preferred 'Fun & Cute' concept.
Source: Herald Biz | Reporter Hwang Hyejin
Translation: hyunjin808@soshified.com
———————————————
SNSDâ??s Taeyeon to be Model of A-solution
[NewsWire] Currently set to be double-casted with current model, Tiffany.
Oh so so pretty~ So bright so bright My eyes are blinded~ Gee Gee Gee Gee~
Taeyeon, the leader of SNSD who is leading the Gee syndrome, has made a contract to be a model for the cosmetic brand â??A-solution.â?
Aekyung (Representative Choi Changhwal) revealed that he made a contract with SNSDâ??s leader Taeyeon as a model for the trouble-care cosmetic brand A-solution. (www.a-solution.co.kr)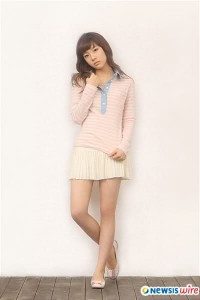 SNSDâ??s Taeyeon officially ended album activities at the end of March, and is still building popularity as currently a DJ on MBC Radio Chinchin and a couple of an imaginary marriage life with Jeong Hyungdon on MBCâ??s â??We Got Marriedâ?. Taeyeon is especially close with female fans, and she is a cosmetics model not only highers expectations and a quality singer, so she is seen as a â??perfect idolâ? right now.
A-solution plans to do a variety of public-relation events with having two top models, now with Taeyeonâ??s new contract and current model Tiffany.
Tiffany sang a SBS drama 'Ja Myung Go' OST, which was released on March 26th as a digital single album, 'By Myself' and as soon as it came out, it became very popular. Starting in April, A-Solution will use this synergy effect to their advantage and use a new marketing activity strategy.
This past January, SNSD released 'Gee' and experienced explosive popularity, ending their album activities 3 months later but through the A-Solution advertisement, Taeyeon and Tiffany's cute appearance will be shown.
The Aekyung marketing team's executive officer, Cheon Youngsuk says on the matter of his strategy of choosing SNSD's main members, Taeyeon and Tiffany, "Among adolescents, the well-known acne product is A-Solution. A-Solution's main target is the 13-18 age group and they like SNSD best, so Tiffany and later, Taeyeon were chosen as models." and "The set up of two-top models will be the marketing strategy and promotion activities are planned."
A-Solution was launched in 1998 and their previous models include: Song Hyegyo, So Yoojin, Go Eunah, Bae Seulgi, etc. appointing top-star celebrities as models that are popular among the teen audiences.
A-Solution has appointed Taeyeon and Tiffany as two-top models. They plan on targeting the teen audience by launching a new product with a Fun & Cute concept that the 13-18 age group prefers.
Source: Newsis and Daum Media
Translation: mbear@soshified.com