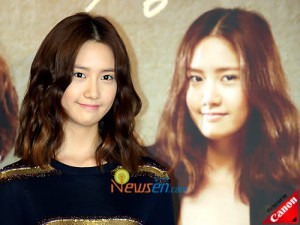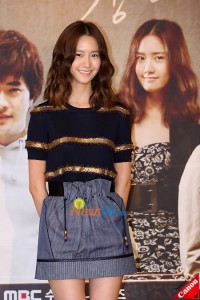 SNSD's Yoona revealed her feelings about working with Kwon Sangwoo.
During the "Cinderella Man" Media Conference held on April 2nd at Seoul Lotte Hotel, Yoona stated, "Kwon Sangwoo oppa seems to be on a different level compared to SNSD in the fact that it's really hard to get to see him" and "The other members were awed when I said I will be acting with the person whom we always wondered, 'Would we be able to ever meet him'".
Yoona also said, "Honestly, when we first started I was a bit worried that Sangwoo oppa would not like me" and "I was afraid that he might find me difficult to talk to or hard to get along with". Then she added, "But such thoughts were eliminated as soon as we started because he jokes around a lot more than I expected, is good at raising the mood around the filming scene and buys me lots of delicious things to eat".
Yoona also told the press, "I was crying and called Sangwoo oppa after watching his movie More Than Blues saying 'The movie was so sad'" then Sangwoo replied, "I was surprised and worried because she was crying on the phone, but after realizing she was talking about the movie, I thanked her for watching".
Kwon Sangwoo will be acting 2 roles; one as Oh Daesan working in the markets of Great East Gate and the other as Sophia Apparel's son, Lee Junhee. Oh Daesan decides to work for Lee Junhee to save his store from bankruptcy and leads a life as Lee Junhee during the day and Oh Daesan during the night.
Yoona will be playing the role of a student at the famous Esmod Fashion School in Paris, Seo Yujin. She is left with overwhelming amount of debt with her father's death, and works under Daesan until she realizes the true beauty of the markets of the Great East Gate.
Song Changui plays the role of Lee Jaemin, step-brother of Lee Junhee who falls in love with Yujin but loses her to Daesand.
"Cinderella Man" based on the success and love of people in the Great East Gate will air it's 1st episode on the 15th after "Return of the Iljimae".
—
Credits: NewsEn.com
http://newsen.com/news_view.php?uid=200904…%E0%BD%C3%B4%EB
Translation: k_tyeon.x3 @ soshified.com