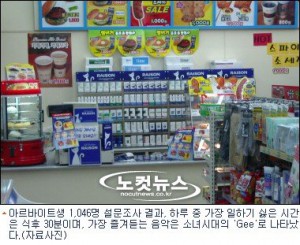 Yesterday night, you went to a convienent store. Then you find yourself a part-time worker dancing crazily with earphones on. You wonder what he/she is listening to. If you guessed SNSD's Gee, then you're right!
On a recent survey, part-time workers said they listen to SNSD's Gee most frequently. Some said they listen to other artist's new songs: Wheesung, Davichi, and Super Junior.
This survey was conducted by portal albamon website (www.albamon.com), which has lot's of part-time job postings.
Albamon surveyed 1046 part-time workers.
According to this survey, its main question was 'Which music do you listen to, while you work?' and 32.2% answered SNSD's Gee, 15.9% said they listen to Wheesung's Insomnia, 14.2% said they listen to Davichi's 8282, and 14.2% said they listen to Super Junior's Sorry Sorry. The main conclusion from this survey was that part-time workers enjoyed listening to fast tempo songs.
…
Credits:
Written by Yuk Doksoo www.nocutnews.co.kr
Transated by cathode@soshified.com/forums