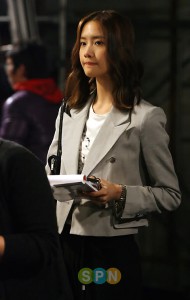 ▲ Yoona, filming MBC's Cinderella Man
"I still hunger for more"
These were the words that Guus Hiddink, who coached Korea's team, said after the team made it into the top 16 teams during the 2002 Fifa World Cup, showing that he wanted to be even more successful.
The new Wed-Thurs MBC drama, Cinderella Man, will first air on the 15th, replacing the KBS1TV daily drama, You Are My Destiny that finished in January. After 3 months, SNSD's member, Yoona will return on television with ambitions in acting that parallels Hiddink's ambitions.
On one night, 4-5 episodes of Cinderella Man was recorded at Seoul's Daechidong's Seoul Trade Exhibition & Convention Center (SETEC), where we met Yoona who said, "It would've been nice if I had a little bit more time to prepare, what a pity" , "I don't draw very well, so making the illustrations myself was difficult but the director, Yoo Jungjoon PD said that he wouldn't use substitutes, causing me worry." revealing her own regretful shortcomings.
But Yoo Jungjoon PD didn't hold back on compliments about Yoona's acting. In the fashion-focused Cinderella Man, the fashion parts reduced the script and directing Yoona on fashion design, designer Jo Sungkyung praises, "She learns quickly and adapts it to her acting well." During the filming that day, Yoona had the role of a new, incoming designer, Seo Yoojin, for Sophia Apparel. She was to act like she was adapting to her situation, gathering the models' ripped clothes and moving them elsewhere. At this, designer Jo Sungkyung contently admires, "She has skill". Yoona's regret is a result of her own dissatisfaction.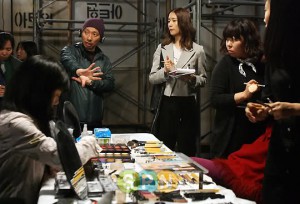 ▲ In the MBC Cinderella Man shooting, Yoona listens to director, Yoo Jungjoon PD's explanations.
In Cinderella Man, Yoona acts as Seo Yoojin, which is a similar character to Jang Saebyuk in You Are My Destiny, and she didn't hide her the burden. Jang Saebyuk was an orphan and after receiving cornea transplants, became a living designer; and with that appearance, Seo Yoojin studies abroad, attending a famous fashion school in France, Paris when she returned to Korea at the news of her father's death. While doing business with the punk-like Oh Daesan at the Dongdaemoon market, she becomes a Sophia Apparel designer. Cinderella Man and You Are My Destiny have similar aspects.
Yoona explains, "Since I'm a continuous 'candy' character, I worry about how to differentiate." And yet, when asked, "To differentiate between roles, which points have you emphasized all this time?", Yoona explains "Jang Saebyuk has a mindset that she can do anything yet she starts from the bottom and there are often times where she wants to apologize but had to keep her mouth shut. However, Seo Yoojin suddenly had to take on the role of being responsible for the family. She thinks, 'do I really have to be doing this?' and says all she has to say without hesitation." It seems she's already created a distinction between Seo Yoojin and Jang Saebyuk.
Yoona, in this drama, acts with Kwon Sangwoo, who tries on two roles as Oh Daesan and Sophia Apparel's heir, Lee Joonhee, and expresses her gratitude.
"There's hardships acting with a new actress but everyone gives her courage and tells her she's doing a good job. While filming, she always talks about SNSD; in short, she brings joy and is the mood-maker."
"Competitive works have actors/actresses that act well lined-up for them and although there wasn't much competition, Cinderella Man is also an interesting drama. At film sites, many people help me and it's fun." , "I think I just need to do well. Yet, I am learning different things than I did in 'You Are My Destiny'" Yoona said, smiling.
Credits to: ESP
Translated by: Hyunjin808@soshified.com/forums