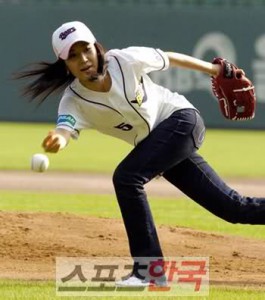 Representing the entertainment world, SNSD's Yuri will once again, 'dominate' at Jamshil Stadium.
This year, the girl group created quite a stir with their dance song and on the 5th, at the pro-baseball Jamshil vs. Doosan-KIA game, will do a special ground performance. SNSD was scheduled to performed at Jamshil last year, as an opening act, but the game was abruptly cancelled and after one year, they'll finally be coming to the stadium.
On this day, Yuri is scheduled to begin the game. On August 15, 2007, she showed a professional, graceful pitch, which garnered quite a lot of attention. That was also at a Doosan-KIA game. Almost as if she was exchanging an autograph, she had a piercing gaze and threw an underhand ball, which dropped right in front of the home plate, drawing cries of admiration from fans. Later, netizens dubbed her as 'BK Yuri'.
A staff affiliated with Doosan said on the 1st, "SNSD hasn't informed us of what kind of pitch they'll do, but rather than the underhand pitch 2 years ago, we anticipate that they'll do an even better pitch"
Credits to: Hankooki
Translated by: Hyunjin808@soshified.com/forums
T/N: BK are the initals of a legendary Korean pitcher, Kim Byunghyo.