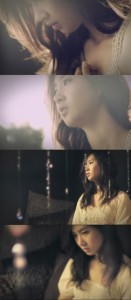 K.Will's 'My Tears Are Dropping' music video was released on 31st.
K.Will released a music video for 'My Tears Are Dropping' and a second teaser. Soon, netizens were amazed by K.Will's music video and it instantly became popular.
Doristar (K.Will works here) said, "We were astonished by how K.Will's new music video gained popularity quickly;
The music video, which features SNSD's Yuri, so far has 500,000 views with hundreds of comments".
SNSD's Yuri's crying scene has left a deep impression on the viewers. Critics said, " 'My Tears Are Dropping' begins with simple piano melody until the magnificent orchestra and drum joins in, which bolsters K.Will's beautiful, passionate vocal. As a result, we find K.Will's vocal very charming".
credits:
Written by Park Saeyeon psyon@newsen.com
Translated by cathode@soshified.com/forums