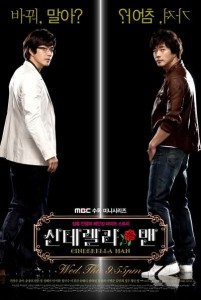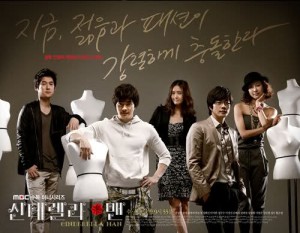 MBC's latest Wednesday-Thursday drama "Cinderella Man" featuring popular Hallyu star Kwon Sangwoo and SNSD's Yoona released 5 promotional posters today, and had become much sought after by the netizens due to their unique and extravagant designs which set them apart from other dramas' posters.
One of the five released promotional posters (topmost) was created by photomanipulating two different images of Kwon Sangwoo, representing the two different drama personalities he's portraying. On the left stood bespectacled Lee Junhee, the wealthy third generation heir of a famous fashion company, while on the right stood Oh Daesun, a poor low level part timer in the Dongdaemun (East Gate) shopping area. Kwon Sangwoo's maiden challenge to act out two strikingly different roles in a single drama had been drawing much attention from the masses.
Meanwhile, posters comprising of the main cast of Kwon Sangwoo, Yoona, Song Changui and Han Eunjung exuded pure "fashion" sense and feel. The vivid and extravagant array of designs, images and colours also serve to uplift the mood and positive vibes given off by the posters.
"Cinderella Man", written by Jo Yunyeong of "Save the Last Dance for Me" fame and directed by Yu Jeongjun who had also produced "Rebirth – the Next" drama, is set to air on April 15th.
Credits: Oeeee Entertainment News
Translation: bubzooka@soshified.com
—
Gahhh the posters really do look good. I really want them. T_T