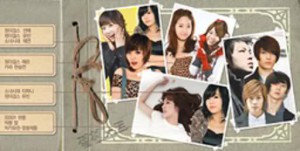 Although Korea's idol groups are constantly competing for popularity and the top music spot on stage, once off stage and out of the limelight these boys and girls of the same generation are linked tightly together by thick friendship bonds.
Wonder Girls' Sunye and Yoobin are close friends with SNSD's Taeyeon, and there are frequent email exchanges between the girls during their free time. Sunye and Taeyeon, being leaders of their respective girl groups, became closer by encouraging and understanding each other through difficult times. Sunye is also close to SNSD's Hyoyeon and Yuri, while Yoobin maintains contact with SNSD's Tiffany and Brown Eyed Girls' rapper Miryo.
SS501's Kim Hyunjoong, now better known for his role in the hit Korean drama "Boys over Flower", is close friends with Tohoshinki's Yoochun and Jaejoong as well as Big Bang's TOP. The four boys had known each other since their schooling days, and frequently renew their friendships through drinking sessions.
Meanwhile, Big Bang's Seungri and Kara's Goo Hara both graduated from the same high school while Kara's Han Seungyeon and Wonder Girls' Yeeun became closer when both of them enrolled at the same time into Kyung Hee University pursuing acting and postmodern music respectively.
Credits: Asahi news
Translation: bubzooka@soshified.com