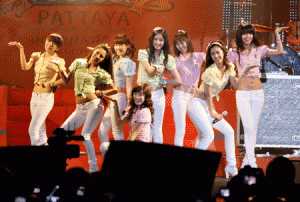 The girls from the popular girl group So Nyuh Shi Dae were moved at the amount of support they received from fans at the "Pattaya International Music Festival," held in Thailand's Pattaya on March 20~22. The girls said that in the stands they saw many male fans that imitated the choreography to their hit song "Gee", and wherever they went around 100 fans surrounded the girls. The center of this attention was none other than So Nyuh Shi Dae. On the 21st, as soon as the concert was over at the Pattaya Hard Rock Hotel, we interviewed So Nyuh Shi Dae still flushed from the concert.
While smiling brightly, member Tiffany said, "we were envious when we saw clips of the popular Japanese group Morning Musume's fans following the choreography, and now that we experienced something similar, we couldn't feel any better."
This marks the second time that So Nyuh Shi Dae visited Thailand, following this year's SM Town tour. This visit was even more meaningful because the girls' hit song "Gee" has been topping not only Korean music charts, but Thailand and other international music charts as well.
So Nyuh Shi Dae's "Gee" has already spread from Korea and has garnered much popularity in various locations around the world. There has been a constant stream of videos being uploaded to sites such as the world-known Youtube. There have been big and small attractions in between Korean netizens, such as Thai male students and an African American following the dancing to "Gee".
So Nyuh Shi Dae member Hyoyeon stated that, "[So Nyuh Shi Dae] was surprised to receive fan letters from unexpected places such as Europe. [And] this was all made possible due to the huge popularity of the song 'Gee'". Member Jessica said, with a happy expression, that, "I looked at an international fansite a lot and see many people from Vietnam, Singapore, America, etc. talking about us."
So Nyuh Shi Dae has spent a very busy 3 months promoting the insanely popular song "Gee". Although the promotion is winding down, they still feel a bit flustered about "Gee" being such a huge hit. The girls of So Nyuh Shi Dae admit that they hold dearly the moving, tear-filled moments when they set the record of 9 consecutive weeks of 1st place on a certain music program.
The center of the "syndrome," So Nyuh Shi Dae will stop activities for "Gee" at the end of the month. They are looking forward to a small hiatus to let their tired bodies recover.
Sooyoung said that, "[I] want to rest for just 1 week and start preparing for new stuff again," and Tiffany likewise said, "[I] already get excited thinking about the next activities we will be doing," and showed an unchanging drive.
credit: aseo @ soshified.com
source: http://sports.khan.co.kr/news/sk_index.htm…40101&pt=nv
kanti@kyunghyang.com