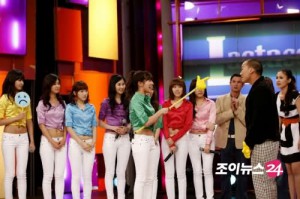 Korean girl group SNSD, who was visiting Thailand for the second time, was warmly cheered on when they appeared on local television programs with the top two nationwide ratings. SNSD, who arrived in Thailand on the 20th, was representing Korea for the Pattaya International Music Festival 2009. The girls were featured on local terrestrial television channels such as Channel 9's "Nine Entertain" and Channel 7's "07 Show" on the 22nd, generating a wave of So Nyuh craze throughout the country.
Channel 9's "Nine Entertain", hosted by veteran Thai MCs Bao and Fan with more than 20 years of experience, is Thailand's most popular television program with ratings as high as 80% nationwide. The MCs introduced the girls by saying, "SNSD's Gee has occupied the top music spot in Korea for 9 consecutive weeks and 6 consecutive weeks currently in Thailand, proving the popularity of this girl group." In the episode featuring SNSD, Jessica was heard saying that she loved buying and eating food, prompting the MCs to unveil the prepared Thai desserts for the girls to have an unexpected tasting session. The girls then proceeded to spend an enjoyable time getting closer to the audience by sharing and sampling the desserts they had.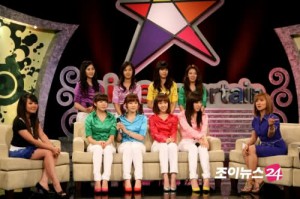 At Thailand's popular variety program "07 Show" with the second highest ratings nationwide, SNSD likewise made an appearance. Besides having a stage for SNSD's "Gee" performance, the program's MCs also engaged the girls in the famous Korean game called "Chamu chamu chamu (Really really really)" and endeared them to the audience through fun and laughter. On the same day's afternoon, the girls headed for their fan meeting in front of Bangkok's famous shopping centre, thus successfully concluding their 2nd visit to Thailand. SNSD will be returning to Korea on the 23rd, and will be concluding the last of their promotional activities with their farewell performance for "Gee" at SBS's "Inkigayo" music show on the 29th.
Credits: Innolife & Digital YTN & Joynews24 & inews24
Translation: bubzooka@soshified.com