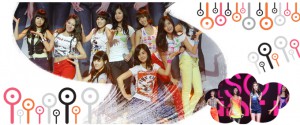 [Two Korean pop girl groups rocket to fame in Thailand]
When it comes to the hottest female pop group, most if not all Koreans would either name Wonder Girls or Girl's Generation (also known as SNSD, an acronym derived from the group's Korean name).
Both groups created a storm in the Korean music industry when they made their debut in 2007.
They have topped the music charts every time they release a new song.
Wonder Girls reached the top with their hit song â??So Hotâ? in early 2008 and continued to gain popularity with their follow up â??Nobody.â?
â??Nobodyâ? was also voted the most popular song of the year in 2008 by many surveys.
The nine members of Girls' Generation came together as a girl group in 2007.
They have sold 100,000 copies of their album in Korea, being the first girl group to do so since 2002.
Girls' Generation has also topped music charts recently with their song "Gee," released this year.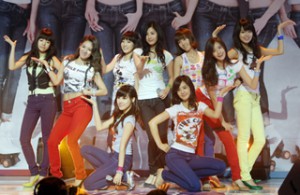 As can be imagined, the two groups are rivals here in Korea and are keeping each other in check.
But Korea is not their only battleground.
In fact, there is one Southeast Asian country where they are fiercely competing â?? musically speaking — to outdo each other. That is Thailand.
Both groups are enjoying enormous popularity in Thailand and they serve like cultural ambassadors of Korea in that land. Many Thai youngsters say they think of Wonder Girls and Girls' Generation as their role models.
Wonder Girls released their first album in Thailand at the urgent request of their Thai fans in 2007 and the band entered MTV Thailand's top five with its album just a month after its release, without even having yet visited the country in person.
This year, the pop group held a fan meeting with 10,000 Thai fans and had their first solo concert at Huamark indoor stadium in Bangkok on Feb. 28. The-7,000 seat-concert was sold out.
The concert was very meaningful to Wonder Girls since it was their first official solo concert ever since their debut.
Meanwhile, Girls' Generation has also been enjoying high popularity there.
Its "Kissing You" was also on MTV Thailand International chart for three consecutive weeks in 2008.
And the group's new song "Gee" has been topping the MTV Thailand International Charts since the end of February.
Girls' Generation and SHINee will also attend Pattaya International Music Festival 2009 on Mar. 21st. Just last month both groups were in Bangkok, Thailand for the SM Town Concert.
With many Thai youngsters saying they want to be like members of Wonder Girls or Girls' Generation, many of them attend a dance studio to learn the dance movements of their idols.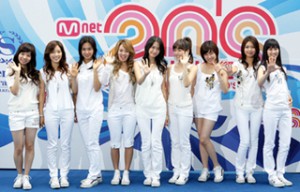 â??Steps Studioâ? in Bangkok opened intensive courses last year as demand rose for classes that teach dance movements to Korean pop songs.
The dance studio used to teach only dance movements of American pop songs but now Korean dance classes are dominant.
Meanwhile, a famous nightclub on Silom Road, Bangkok, has been playing Wonder Girls' â??Nobody" since late last year.
This was something very new and noteworthy, as this club used to play only Thai music all the time.
Some culture observers worry that the Korean Wave, or â??Hallyu,â? referring to an explosive popularity of Korean pop culture abroad, seems to be fading.
However, that does not hold true in Thailand, with the popularity of the two female groups, along with other Korean pop idols such as Super Junior and Big Bang, is actually on the rise in Thailand.
PLEASE BRING OUT WITH FULL CREDITS.
Credits: korea.net