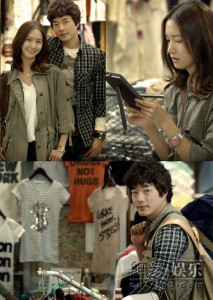 MBC's new Wednesday-Thursday drama 'Cinderella Man', starring popular Hallyu star Kwon Sangwoo and SNSD's Yoona, has recently released photos of the drama shoot which drew everyone's attention.
The photos that were released this time depicted the male drama character Oh Daesan (acted by Kwon Sangwoo) carrying a large backpack at Dongdaemun (East Gate) shopping area with the female drama character Seo Yeojin (acted by Yoona) sitting in her deceased father's shop looking at her family photos. In the drama, Yeojin brushed shoulders with Daesan at her father's funeral and the two had another chance meeting at her father's shop. Daesun helps distressed Yeojin, thus blossoming the start of their relationship.
The main setting for 'Cinderella Man' is at Dongdaemun shopping area, and filming officially began in the second week of March. As a testament to the popularity of Sangwoo and Yoona, their filming attracted hundreds of onlookers, especially when it took place at the bustling Dongdaemun shopping area. The 14 year age gap between Sangwoo and Yoona is the subject of much anticipation for the audience looking forward to the drama. Sangwoo said, "Although it's very tough to act in two different roles, this is what makes the drama all the more interesting."
'Cinderella Man', boasting a star-studded cast including Kwon Sangwoo, Yoona, Song Changui and Han Eunjung, will be airing after MBC's 'The Return of Ijimae', and is expected to hit the screens on April 15th.
Credits: ent.163.com
Translation: bubzooka@soshified.com