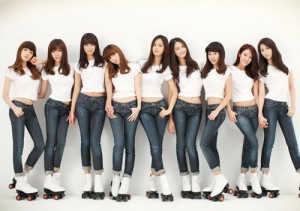 Girls that have been at the peak of their popularity since the beginning of 2009 with their new hit song, 'Gee', officially announced a break from airing on programs at the end of March.
As of March, SNSD will be taking a temporary break from their lives as singers and will be taking a break as they work on individual CF shoots and filming.
SM representative announced "SNSD will temporarily stop airing on variety programs with MBC 'Yoo Jaesuk & Kim Wonhee's Come to Play' as the final show on the coming 23rd. Also, "They will not be able to perform on KBS 'Music Bank' or MBC 'Show! Music Core' or SBS 'Inkigayo' this week due to their appearance at '2009 Pattaya Music Festival' as Korean Representatives from 20th to 22nd.
The representative also stated "SNSD's 9 members have been pushing themselves for the past 3 months and they will be taking times to relax and rest" also "Everyone other than Taeyeon who is starring on 'WGM' & 'ChinChin' and Yoona starring on 'Cinderella Man' does not have any specific schedules planned". However each member could possibly take on new roles as MC, DJ or actresses as chances allow them.
SNSD who have set a record on 9 consecutive wins on 'Music Bank' also won 4 consecutive wins on Thailand's 'Channel [V] Countdown Asian Chart' and was chosen as 'February's Top Artist of the Month' and have experienced immense popularity internationally.
On the other hand, a intense battle for popularity is expected during the period called, 'Post SNSD', after SNSD has dominated the scene since January.
—
Credits: Yahoo, Korea. & MehIl KyungJae
http://kr.news.yahoo.com/service/news/shel…mp;newssetid=83
Translation: k_tyeon.x3 @ soshified.com