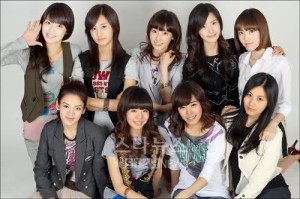 The 9 girl group, SNSD, has become the first artist to sell 100k albums this year.
On the 17th, SNSD's company, SM Entertainment, has revealed that SNSD's mini-album, which was released on January 7th, has surpassed the 100k mark (Entertainment's standard total) and is now approaching the 110k mark. With 'Gee' as the title song, SNSD's mini-album has become the first album to sell more than 100k.
SNSD is dominating not only online charts, but offline charts too.
The title song, 'Gee' that's located on SNSD's mini-album and has made over 100k of sales, is being appraised as a crazy influence, driving people nuts. Gee is made up of an addictive melody and lyrics and in KBS 2TV's 'Music Bank', it has been number 1 for 9 consecutive weeks, still at the peak of its popularity. This has helped boost the mini-album's popularity.
SNSD, with their 100k sales, has sold their first album in November 2007 and this is their 2nd album to surpass 100k sales, which they're happy to have done. Korea's music industry association states that SNSD's 1st album has sold at least 120k albums.
SNSD is the first girl dance group to have been able to sell 2 albums, consecutively, that have surpassed 100k sales since the middle of the year, 2000.
Credits: Star News
Translated by: Hyunjin808@soshified.com/forums