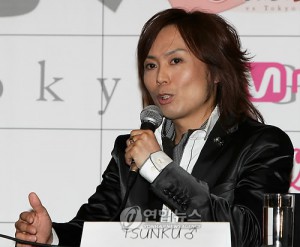 Japan's Up Front Agency has collaborated with Korea's music channel MNet to audition for a Korean to join Hello! Project.
At the opening promotion session of the auditions in Seoul on the 9th, Japanese talent producer Tsunku commented, "The current standards of the Korean music industry is fairly high. As I did not have much interaction with the Korean music industry till now, I realised and considered the possiblity that the meteoric development of the South Korean music industry will soon replace the Japanese music industry."
He noted that although there were many Korean entertainers active in Japan, the presence of Korean singers in Japan was almost non-existent in comparison. To prevent the extinction of Korean pop music in Japan, he expressed his interest in introducing Korean girl groups such as Girls' Generation, Wonder Girls and Kara to the J-Pop scene.
Since the establishment of Hello! Project in 1998, the 76 man-strong Up Front Agency under the supervision of Tsunku had become a brand name in Japan for female idol singers and groups, featuring current active groups such as Morning Musume, C-ute and Berryz Koubou.
The auditions, set to be broadcasted on MNet towards the end of April, will be titled 'Anti-Tokyo Girl'. 10 finalists will be selected after the auditions to undergo intense training and only 1 will be selected to debut in the J-Pop scene.
"Applicants will not need to reveal their age, as I hope that confident Korean women of all generations will apply."
Tsunku highlighted that the important qualities he's looking out for in the auditions are a strong love and talent for singing as well as the ability to work in a foreign land away from home.
"The reason for the intense training for the finalists is because I want to uncover the true gems and treasures in the Korean music industry. I'll be able to spot new talents unlike the Korean producers as I have a different cultural mindset and perspective."
Credits: Yon Hap News
Translated by: bubzooka@soshified.com