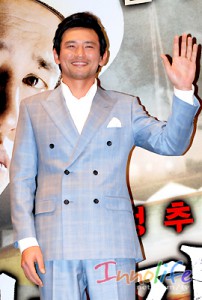 Male actor Hwang Jung Min confessed that he wanted to meet Girls' Generation and Son Dambi.
Set to star in the movie 'Private Eye (formerly known as the Aerialist)', Hwang Jung Min was very frank at Kim Jung Eun's Chocolate Show on SBS where he performed Lee Moon Sae's Sunset Glow. When asked which female entertainers in Korea he wanted to meet most after his performance, he replied embarrassedly that it was Girls' Generation. Upon Kim Jung Eun's further questioning, he revealed that he especially wanted to meet Yoona. When asked about anyone else he would definitely like to meet, he laughingly requested for Son Dambi.
When talking about his 30 month old son, he expressed his love by saying things like how he would like his son to go into acting as well as how similar their ears were.
Credits: Innolife & Digital YTN
Translation: bubzooka@soshified.com