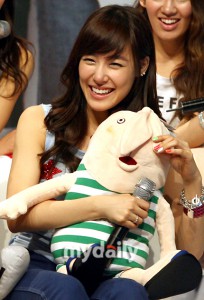 SNSD's Tiffany says only family members, the managers and Jung Hyungdon are able to visit their dorm freely.
Tiffany, who was on KBS2TV's Ssang Ssang Plus Season 2 (Imagination Plus Season 2) which aired on the 10th, was asked by the MCs as to who could freely visit SNSD's dorm. She then replied that only their family members, the manager oppas and comedian Jung Hyungdon could do so, adding that Hyungdon is their brother-in-law.
At the moment SNSD's Taeyeon and Hyungdon are featured in MBC's Sunday Sunday Night – We Got Married as a make-believe married couple.
Credits: Sina News
Translation: bubzooka@soshified.com