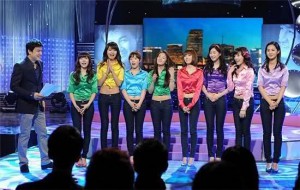 So Nyuh Shi Dae's Taeyeon revealed her loneliness after popularity.
Taeyeon appeared on KBS 'Park Junghoon Show' on the 8th and stated that "Being a singer is a lonely career".
"We prepared for years putting all our effort into it, but the actual performance is over in just a few minutes" was Taeyeon's reason.
She continued by saying, "I have these empty feelings when I get off of the stage" and "These feelings alone just makes a person feel lonely".
Also, "I've had regrets when I think about some past performances because we cannot redo them" and "Sometimes during preparation, we really feel that being a singer is such a lonely job".
Tiffany added that to a singer, "Popularity is like seasons coming and going".
Also Sooyoung stated, "There could come a time when someone sees me and say 'Who were you? Oh you are one of the girls from SNSD that was popular in the past with 'Gee". And many become depressed due to the swiftness of gaining or losing fame. So I try to ready myself for that and be more humble".
On this day, all the girls of SNSD excluding Yoona appeared on 'PJH's Show' and shared their views and experiences.
—
Credits: Yahoo, Korea. & Asia KyungJae
http://kr.news.yahoo.com/service/news/shel…mp;newssetid=83
Translation: k_tyeon.x3 @ soshified.com