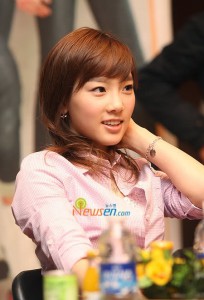 So Nyuh Shi Dae's Taeyeon revealed that she dreamed of becoming a singer after seeing Asian Star, BoA.
Taeyeon appeared as a contestant on KBS '1 vs. 100' on the 17th. When questioned, "Which artist did you look up to as you dreamt of becoming a singer?" by MC Son Bumsoo, she replied, "BoA sunbaenim had a lot of impact on me and my career".
Also when Son Bumsoo said, "I heard Taeyeon was very quiet when she was young", Taeyeon replied, "I was a bit quiet as a child, but I loved to sing and dance as a kid. Especially my uncle always asked me to sing Shin Shineh sunsangnim's 'Sesangun Yojigyung'". She even made the whole studio burst out in laughter when she said, "There is even a dance to go with the song" and started to flail her arms around copying the unique dance of Shin Shineh.
When the people around started laughing Taeyeon stated shyly, "It's a bit awkward since I haven't done it since I was a little kid. It must have been atleast 10 years". MC Son Bumsoo teased her saying, "You were silly at such a young age!.
On this day, Taeyeon did well in answering the questions on the show, however was disqualified after missing a question on foreign language.
—
Credits: Yahoo, Korea. & NewsEn
http://kr.news.yahoo.com/service/news/shel…mp;newssetid=83
Translation: k_tyeon.x3 @ soshified.com