[14.02.09] SNSD, representing the teenagers on "Lee Hana's Peppermint"-performance
After the Christmas special, this will be the second special on "Lee Hana's Peppermint"! Many things have been prepared for a long time for the "Valentine's Day Single Party" for all the couples and people who are alone but still happy or are going to meet someone tonight.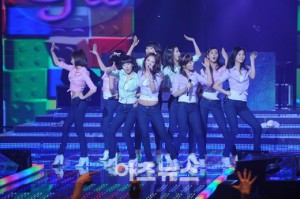 Ears and eyes will be pleased due to the great standing concert where the best of the best like Girls' Generation (representing the teenagers), Dynamic Duo (representing the 20s), Baek Ji Young (representing the 30s) and Kim Gun Mo (representing the 40s) will perform.
The pretty girls, who are pleasing to the eye, were on "Peppermint" and of course they got all the attention from the male audience but they also got to fascinate the female audience. Now, everybody's song is "Gee".
This was the first time hearing "Gee Gee Gee Gee" in the recording hall and the girls were doing really great leaving a surprised crowd behind. Feeling the girl's will you can't add enough expressions like cute, lively, fresh to describe them.
Source: Paran – Arts News
Translations: Xeth@soshified.com/forums
The last part was about Baek Ji Young so I didn't translate that~