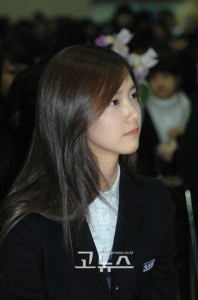 A serious-looking Yoona
11am 11th February: Yoona attended the graduation ceremony of her high school, Seoul Daeyeong High School.
Yoona's Graduation Ceremony, the reason she is surprised??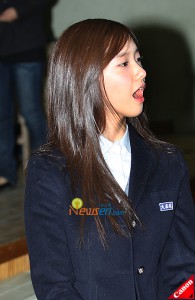 [Newsen Pak Joon Hyung Journalist]
On the morning of 11th, Yoona received her high school diploma from her old alma mater, Seoul YeungDeungPo Daeyeong High School.
Following this, Yoona takes off her high school student badge and makes a fresh start as a university student.
Today, Sooyoung is also graduating for her high school, Jeongsin Girls' High School but unfortunately she could not attend the graduation ceremony due to her schedule. Yoona and Sooyoung will be a university student in March after passing their university entrance exam in Dongguk and ChungAng University respectively, both doing a first degree of Drama and Film.
Recently when Newsen met Sooyoung, " February is a month full of meaning for me, not only the 10th is my birthday, my graduation day is also in February. Soon I will also be a university student." said a brimming Sooyoung. She also added," Due to a busy schedule with SM, it is very unfortunate that I can't attend the graduation ceremony."
At the end is about FT Island's Jong Hoon and Hongki's graduation from high school news. Therefore, not translated.


Girls High School Generation, Adieu! Yoona, blowing a woman's scent…
Yoona's graduation and new beginning…Dongguk University's Im Yoona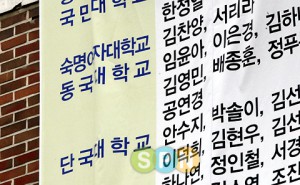 [edaily SPN Han Dae Yook journalist] Hung outside the wall of the school is the list of 2009's successful candidates for admission to university where Yoona's name can be seen.
On the second half of last year, Yoona together with Wondergirls' Sunye successfully passed Dongguk university's 2009 2nd Semester performing talent selection process.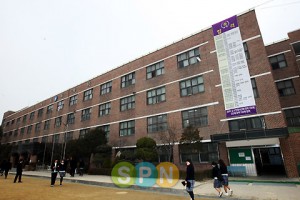 Yoona is Pretty and Kind…her fame in school is Jjang!
[edaily SPN Yang Seung Joon journalist]
On the 11th, Yoona who completed her high school life was fully praised from her class teacher and classmates.
Before the graduation ceremony, met her 3rd year 1st Class teacher, Pak Myung Hee," Yoona was really prettty and kind," and " Even though she could not always attend school due to her performing activities, the terms for graduation such as attendant days was safely fulfilled, allowing her to be graduated today."
Yoona received an Arts Award from her high school in recognition for bringing up the school's name through her entertainment activities.
On meeting with Yoona's classmates, "Yoona was pure and kind" and "Even though she did not always attend school and we could not chat alot with her, but she has no problems mixing well with her friends," saying too that they will miss parting with Yoona.
Sources:
http://www.newsen.co…902111242181010
http://spn.edaily.co.kr/entertain/newsRead…mp;curtype=read
http://spn.edaily.co.kr/entertain/newsRead…mp;curtype=read
Credit: leezhezin@soshified for translations
For more graduation pictures of Yoona
http://soshified.com…showtopic=13767
AND to watch Yoona's Graduation Ceremony Video
http://soshified.com…showtopic=13784