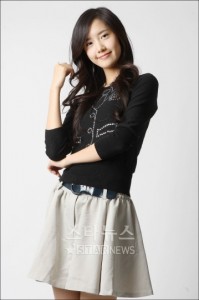 Girls Generation's Yoona will be acting with actor Kwon Sangwoo in the new MBC's Wednesday/Thurdays Drama "Cinderella Man."
Yoona will be casted as a designer name Seo Yoojin in the new series. According to the casting staff, she is not yet chosen for the role, but there is a very high chance that she will take it.
Recently casted Kwon Sangwoo was rumored to be acting with Han Eunjung and Han Hyejin in the new series, but the two roles were rejected by the actors. After an outstanding acting debut from the hit drama 'You Are My Destiny", Yoona became a highly likely candidate for the new role.
Yoona's new role of Seo Yoojin is about a girl who lives a hard life in Korea after being forced to drop out from a prestigious designing school in Paris due to the death of her father.
This new fashion drama written by Jo Yoonyoung, writer of 'Lets go to the Beach' and 'Last dance with me,' and
directed by Yoon Jungjoon will be aired in April after the end of "Return of Iljimae."
Source:
http://news.naver.com/main/read.nhn?mode=L…;aid=0001974453
translation credits to john@soshified.com