Girls' Generation 5 weeks at #1… Will Wondergirl's record be broken?
2009-02-10 13:16:34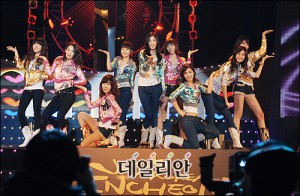 First mini album title song "Gee", SNSD claims the #1 spot for the 5th week.
And once again, with the comeback of Girls' Generation, the popularity of girl groups have been proven once again.
According to music portal MNET, in the 2nd week of February, SNSD's hit single Gee was in first 1st place for the 5th consecutive week.
Early last month, after a 9 months hiatus, the first mini-album's title track 'Gee' was released. And shortly after claimed the top spot and held onto it for five weeks. Downloads are also always staying in the top 5 and above. A lot of interest has be generated because SNSD is now tied with Wondergirl's 'Nobody'.
Mnet Media Digital Media Division's Kim SeungChul stated "maybe it's a coincidence, but Girls' Generation's 'Gee ' and last year the Wonder Girls' Nobody' both hit #1 two days after release and both won 5 consecutive weeks at #1. If Girls' Generation's 'Gee' can win #1 one more time, it would be the longest consecutive streak held by a Female Idol Group." he said.
SOURCE
credit: skim @ soshified/forums
(the rest of the article just explained SNSD's competition for next week so I stopped translating.)