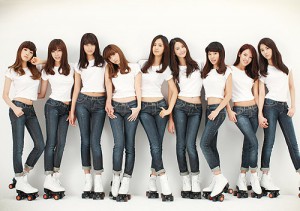 "All they did was wear white tee with jeans…"
SNSD is taking over 2009's early music industry as well as fashion.
SNSD, who cameback with their new mini album 'Gee', is becoming a trendsetter. SNSD's clothing, skinny jeans and white t-shirts are on the rise in the fashion industry.
Recently, skinny jeans is the trend in fashion. It is on the rise again similar to the rise that 'leggings' had last year.
Also, the clothes that SNSD members wore in the album jacket and comeback stage are receiving a lot of attention. Last year, SNSD got a lot of attention with the school look. Now, they are showing a mature side with white t-shirt and jeans.
Also, SNSD's "crab-leg dance" is famous. Some others are mistaking it for "dog-leg dance" because of the mis-pronounciation.
The title song "Gee" is already at the top. The english exclamation "Gee" is a R&B pop dance song made by E-Tribe who made Lee Hyori's "U-Go-Girl." "Gee"'s music video recorded over 1 million views after one day, and topped all offline charts and is taking over the entire music industry.
Original: NewsEn
Translations: dongie@soshified.com/forums