SNSD â??We learned the importance of performing togetherâ?
[NoCutNews] Female Idol Group SNSD, Comeback After 9 Months with Mini-Album 'Gee'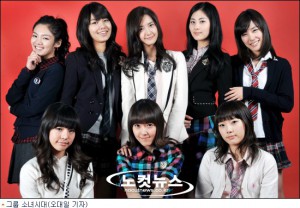 SNSD is finally back.
SNSD, who has changed from inexperienced girls to girls growing slightly into womanhood, has started their group activities on the 7th with their mini-album 'Gee'. The interest in them was reflected as soon as they had their comeback as they swept all the online and offline charts, showing their popularity.
â??We are happy that the response has been positive, as we prepared really hard. Since in our debut we could only show our cute side, this time we want to show a different image. We put all our efforts to give our fans a more comfortable and familiar side.â? (Taeyeon)
Made by E-TRIBE, author of Lee hyori's U-Go-Girl, the title song, â??Geeâ?, is a fast and lively dance song about the cute circumstances of a girl in love for the first time.
In the mini-album we can find 5 different songs, each one with their own color and style. 'Way to Go� is a punk-rock song with a cheerful meaning. 'Dear Mom� is a pop-ballad song about the feelings of a daughter towards her mother.
â??We wanted to return with a perfect album. Unfortunately it took more time than expected. I think that through these five songs we are able to show you a diversity of colors and genres. Music that give a SNSD vibe, just like our songs.â? (Tiffany)
â??I cried while singing 'Dear Mom'. I started thinking about my mom, who worries and takes care me. Thinking about those times when I couldn't talk properly to her because of my busy schedule, I felt really sorry. Not only us, but daughters all over the world would feel the same.â? (Sunny)
Last April SNSD stopped their group performances and started their individual activities. Taeyeon was active as a solo singer and as a DJ, and Yoona met the audience as an actress. Last fall, all members worked as fashion magazine editors in the cable channel Mnet reality show 'Factory Girl'. At that time, the girls were really excited to be chosen. Sooyoung ,who has a lot of interest in fashion, worked specially hard.
â??Really, if I didn't turn into a singer this would be the kind of job I would want to do. I was really happy to have the chance to experience it.â? (Sooyoung)
â??The pages we edited as 'Elle Girls' were actually published. As a result, we developed a strong sense of responsibility.â? (Sunny)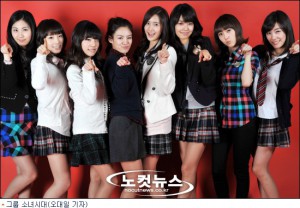 The members' experience as intern editors was shown in their new album. With colorful skinny jeans and body-fitting t-shirts, this fresh image is becoming a trend with people in their late teens and early twenties. This style was the result of all members' opinions and ideas.
"We saw many fashion shows while working as fashion magazine editors. Therefore we had the chance to see the items that would become popular the next season. It seemed that many people were using clothes with a simple style. This album is inspired by the many ideas we learned while working there.�(Tiffany)
It's been so long since we performed as a group, and everyone is overflowing with energy. Without doubt, our plan this year is to perform all year together."After the promotions for this album ends, we have plans for another mini-album. This year all members are going to be together. During the long wait for our comeback we learned the importance of being together in the same stage. Please look forward to our performance.� (SNSD)
omj@cbs.co.kr
Trans: Cph@soshified forums
Source: http://www.cbs.co.kr…asp?IDX=1036024