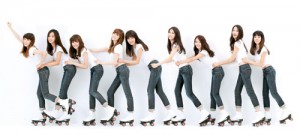 "I recently visited the U.S. to see my parents but I was surprised by the mood there. It really seems like our economy isn't good. It doesn't feel like the new year and people look very tired. For those of you going to work and studying for exams, listen to our song and cheer up!" (Tiffany)
SNSD recently made a comeback with their song "Himnae (Way to Go)" to give strength to those who need it. On the thirteenth when I met SNSD, they said, "Long time no see!" and laughed. It's been nine months since I saw the nine girls have been together. Yoona, who has been acting in the drama You Are My Destiny, which topped of a view of 40%, Taeyeon, who has worked on the OST for the drama Beethoven Virus and aired for the radio, and Sooyoung who has been working on her movie, have all been busy during the time.
Coming back with their mini-album Gee, they say that "through this long time of hard work, they will be performing for a while". The fans are also on fire. After the album release, the internet has brought SNSD to the top and their dances on broadcasting television has also brought tons of excitement.
Most of the fans seem to be many males aging from 20 to 30. They attend SNSD's concerts even while going to work.
"I like how they think very cutely of us. That's why I think it's not necessary for us to go through some sexy makeover. Just as we don't want any scandals we like this teenage image we have." (Sooyoung)
Although it seems hard to all live together, Jessica thinks that "because we know each other well and care for each other" they "cry with each other and sometimes go out to the sea for air or go to the movies together".
Tiffany said, "Although it looks like we get jealous of the members that get successful, we always encourage each other." She thinks that because of the long time that they've been together, the way they talk is almost the same as well.
They looked proud coming back in their tight skinny jeans with a white t-shirt.
Sooyoung and Yoona are still looking ahead towards college, and Seohyun, the only 19 year old left, is surpassed by all the other members in their 20s. We asked them about how they felt of their age.
"SNSD's dream is my dream. I hope SNSD will be able to spread throughout the world." (Taeyeon)
"I hope this year will be successful. If I can, I also want to continue acting." (Yoona)
"Although everyone makes mistakes, I don't want to turn back and look at my 20s and see things I'll regret." (Jessica)
"I want to become the top dancer who's learned dancing from foreign countries. Same with singing. I'm very greedy aren't I?" (Hyoyeon)
"I want the people who've grown up watching us to say in ten years that they want to live like us!" (Yuri)
"I want to experience the world and live hard. I also want to know how to get over mistakes and errors as well." (Sunny)
Credits:
Ji-hyun Jun & Kim Seulgi @ news.mk.co.kr
http://news.mk.co.kr/se/view.php?no=27402&…009&sID=507
joeMAmaaaaa@soshified.com